Russell Hall's ironic order
15 January 2001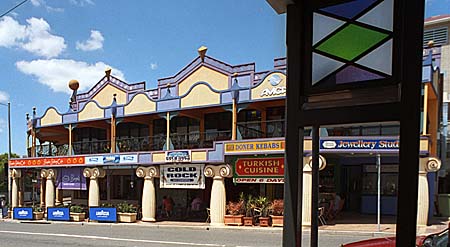 This building is the source of the column that I use as the ironic column logo. It's a refurbished 1960s shop and office building in the West End shopping centre, near where I live in Brisbane.
Credit for the refurbishment goes to the architect Russell Hall. He added the awnings, upper verandahs, and parapet. He designed the Ionic columns and other architectural jokes in the building.
Ian Sinnamon, Dean Emeritus of the architecture school at Queensland University, when asked whether the columns were Ionic, said "no, they're ironic." I liked his joke, and I pinched the name for the column you are reading now.
7 February 2002
Postscript
I got an email message from Russell Hall yesterday, objecting to what I had written above and telling me I had misread his intentions.
I rang and talked to him. He objected to two of my adjectives — he read them as insulting. I explained I meant them to be simply descriptive, without any venom. (Those words were not essential to what I wanted to say, so I have now removed them.)
He was also offended by my reference to architectural jokes in the building. To call his columns ironic was glib wordplay, he said, and he challenged me to explain how a column can be ironic.
Russell said he was serious when he designed the columns. We talked about some of the things he was trying to achieve, how they informed the column design, and the extra work he had put in. I sensed, though he didn't say so, that he was pleased with the result. I reckon he should be pleased. I like them too. Whenever I pass them they give me pleasure — a feeling I get from their shape, as well as (sorry Russell) the humour I see in them.
I told him I would answer his challenge when I had time. He was happy about my use of the column as a logo here. We ended on good terms.