Bad business at Thor's Gym
14 December 2004
This is a true story about Thor's Gym at West End in Brisbane. There are lessons here for any business that wants to attract and keep a customer
In this story the customer was me, in December 2004. In case you have come straight to this page from a search engine, I should introduce myself: I'm in my fifties, my body shaped by decades of work at the drawing board, at the desk and at the computer. By temperament I am co-operative, tolerant, mild-mannered, with a tendency to sloth. Over the last few years I have had Ross River fever, chronic fatigue, and I have broken a collar-bone and several ribs in a fall from a scaffold. In short, I'm flabby and unfit.
All of this made me a receptive target for a phone canvasser offering a special weekly rate at a local gym (Thor's Gym & Fitness Centre, Vulture Street, West End).
I take the bait
By appointment, I visited the gym and was shown around. It seemed a friendly place. It was certainly convenient, since I walk past it several times a day as I go about my business. Yes, I thought, I could be comfortable coming here.
Lesson: If the product you are offering suits the customer, you are off to a good start. It ought to be easy to nurture a wholesome relationship with them.
The young woman gave me the pitch, jotting numbers on her clipboard for me to see. The gym had several packages, she told me. If I paid so much each week I could have unlimited use of the gym under certain conditions… If I paid so much upfront and so much a week I could have unlimited use under certain conditions… And, in the best deal of all, if I paid so much upfront I could have unlimited use for the whole year.
I agreed with the whole-year deal, read the conditions, signed up, paid by credit card, and left. On the way home I felt good about having made a comittment to getting fit, but unsettled that I was leaving without a copy of the document that I had just signed.
Lesson: Lack of clarity and openness can make the customer suspicious. You start to lose good will.
I have second thoughts
Overnight, buyer's remorse set in. I had paid a lot of money without having done a single session at the gym. And I blamed myself for falling for such an easy trick of salesmanship. I remembered that the contract had a 24 hour cooling off period.
I went back the next morning to change to a different plan. The man behind the counter, who I had not met before, told me two things: First, he knew nothing about the terms of the promotional packages I had been offered, since these packages were being sold by people who had been engaged for that purpose and his boss had not told him the details even though he had asked. Secondly, he said that the usual gym offerings included packages of 10 sessions. He was helpful, and I thanked him. He took my details and told me that his boss would ring me. I told myself not to be troubled by these signs of workplace tension, and determined to wait and see what happened. I was not confident that the message would get through, so I sent an email message to the gym to confirm that I wanted to bail out of the deal - this message was never acknowledged.
Lesson: Signs that one part of the business doesn't know what another part is doing tend to trouble the customer. Any evidence of staff frustration compounds the trouble.
I was out of town for a week or so. There were various phone calls before and after, assuring that my refund was on the way and confirming my intention to have the fitness assessment as arranged.
Things go seriously wrong
I went to the gym for the fitness assessment. The man at the desk (the same man as before) checked the diary and told me there was no record of the appointment and no-one was available to make the assessment. He remembered our previous discussion and told me that the people with whom I had arranged the appointment had not passed on the details, and that those people were no longer at the gym. He said that I would need to make another appointment.
I'll break here to briefly describe him. He was perhaps half my age, somewhat taller than me, a lot heavier (especially around the shoulders, arms and neck), not at all flabby. The hair on his head was closely clipped all over. He had the physique of someone who spent a lot of time at the gym, and not just at the front desk.
I asked him to ask his boss to ring me to sort out the arrangements since, as far as I was concerned all my dealings had been with Thor's Gym, not with anyone else, and I expected Thor's Gym to sort this out.
At this point his manner changed. Something snapped. He got very angry and said 'If you're going to take that attitude with me you can fuck off!' He came out from behind the reception desk and he pushed me out of the building. Once outside, he yelled in my face 'Now fuck off and don't come back!'
I did not stay for any more. I went home deeply troubled. To help me work out what had happened to me, I wrote an account of the whole business, noting each of my interactions with the gym. I used my diary and phone notes to reconstruct the sequence of events.
Lesson: If you want to lose whatever good will you have built up, insulting the customer is likely to be effective. If you want to be certain, physically assaulting the customer will do the trick.
Registering my complaint
I wrote a letter of complaint to Frances and Colin, the owners of the gym. I handed them the letter and spoke to them in private about the way their employee had insulted and assaulted me, and about the affront I felt. They listened, and seemed to take my complaint seriously. I left with the feeling that they would consider the issues seriously before responding.
What they could have done
Over the next few days I pondered what a business owner should do in a situation like this, to repair the damage and recover its good name.
I thought the first thing would be to apologise. I had come as a new customer, and had shown good will towards the business even when it mucked me around. Then I had been abused and assaulted by staff of the business. Whatever human factors might lie behind this affront, the business owes me an apology.
Secondly, the business ought to refund my money. All of it. Straight away.
Thirdly, the business should respond to my concerns about the staff member. Was he still working on the front desk? Had he been counselled? Was there a reasonable explanation for his outburst?
What they did do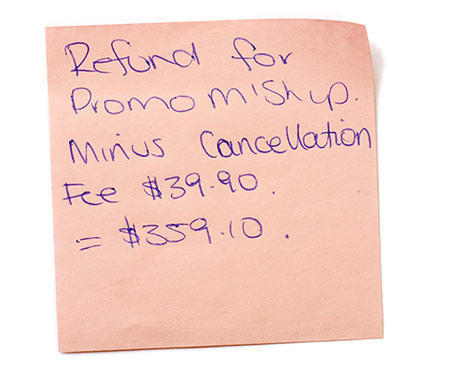 The response from Thor's Gym, when it came, consisted of a cheque for part of the money, and this little Post-It! slip explaining that they had kept 10% as a cancellation fee.
I wrote back, asking for a more appropriate response.
Update—18 April 2005
Since I wrote to them last December, nobody from Thor's Gym has bothered to contact me, until today. I got a phone call from a woman who gushed that I was lucky enough to have been selected to receive a special offer from Thor's Gym. She asked me if I had been to Thor's Gym. Oh yes, I said, I have been there, and had a bad experience.
She asked what had happened. I told her that I had written an account on my website, and that she could find it by searching Google for Thor's Gym. Then I ended the conversation.
Since the beginning of January 2005 (when I started logging visits) I know that almost all visitors to this page came here via google. A few came from yahoo, msn, inktomi or looksmart. Most of the searches include the terms thor's gym, often combined with brisbane or west end. One web surfer with a French IP address searched google.com.au for fitness for fifties. Another in Japan searched google.co.jp for refund slip.
Some visitors have written to thank me for telling this story of bad business behavoir. And that has made publishing this page a worthwhile project.
Update—14 December 2005
A year has passed since I first published this page, and it is time for an update. Back in May I received a letter from Gateway Lawyers, acting for Thor's Gym. They claimed I had caused financial loss to the gym by publishing inaccurate information on this web page. They threatened to take steps to recover the loss. They wanted me to remove this page from the web. They wanted me to apologise.
I wrote back, asking them what information on this page is inaccurate. That was seven months ago. I have not received an answer.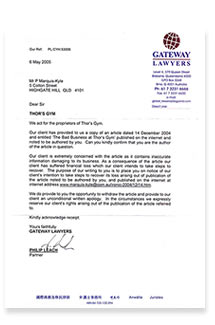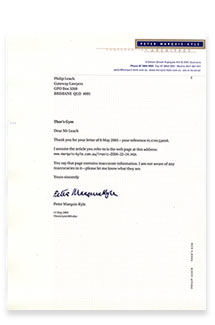 Update—13 October 2009
When I walked past today, the gym was all closed up, with a real estate agent's For Lease sign out at front. Somebody has stuck to the inside of the glass door a note announcing the closure of the gym due to legal proce[e]dings. The note includes an unsigned apology for any inconvenience, but no contact address.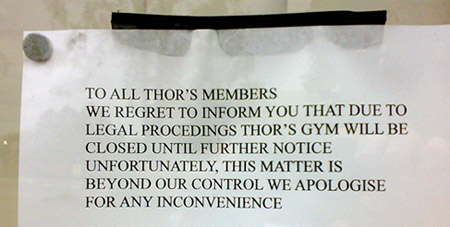 Update—23 September 2011
Good news. A friend sent an email letting me know that the old gym premises are now occupied by a new business. The friend, whose opinion I trust, says that the people who own the gym now are just wonderful!