Special places archive
January 2004
Ladakh
Broken link
This portfolio of photographs by Dr Jaroslav Poncar evokes the spectacular landscapes and hard life of Ladakh, on the western edge of the Tibetan plateau. I enjoy the unsaturated colour and sombre monochrome of these pictures.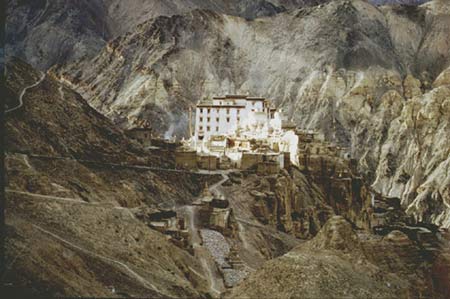 The photographer's website bio is in German — here is my rough translation of part of it:
Jaroslav Poncar was born in 1945 in Prague. He lives in Cologne, where since 1973 he has been a professor … at the University of Applied Sciences. His numerous photographic projects have taken him to Arabia, into the Himalaya, to central Asia, to India and Cambodia.

The enormous landscape of the western Himalaya enticed him to take up panoramic photography. For more than 20 years he has used the old Russian FT-2 panorama camera. In 1985 he was probably the first European to cross Tibet from east to west. He spent the summer of 1986 with the Tibetan nomads. In 1987 he was part of a team that investigated the area where the Brahmaputra, Indus, Sutlej and Karnali rivers rise. In the summer 1993 he journeyed into western Tibet.

The largely-wordless website leaves the photographs to speak for themselves, with no caption or commentary. If you need a dose of facts, see the Ladakh government website — here you can read about the uptake of Information Technology (they have the highest VSAT centre in the world), and the incidence of the crime of dacoity (uncommon), in Ladakh.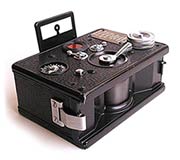 A photographic diversion: I was surprised to read that Jaroslav Poncar used a Krasnogorsk FT-2 swing-lens camera to make his panoramas. I must have been wrong to think of these as crude and quirky cameras. I would not have chosen to rely on one for an unrepeatable trip in the Himalaya. I owe an apology to Feodor Vasilievich Tokarev, the 'personal friend of Stalin' who designed the cameras, and to the workers of the Krasnogorsk Mechanical Plant who built them between 1958 and 1965.