Special places archive
March 2004
Frosted windows
Broken link
Frosted windows: 300 years of St Petersburg through western eyes is an exhibition of images from the collection of the Kenneth Spencer Research Library at the University of Kansas. Through its glib annotations the exhibition reveals both the place observed, and the place from which it is viewed.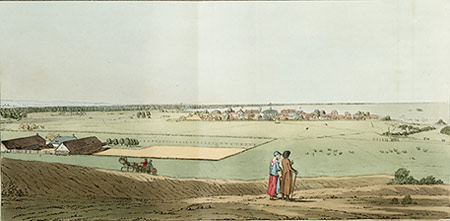 The sketch above is from a book by Peter Simon Pallas, Travels through the southern provinces of the Russian empire in the years 1793 and 1794. Here's the caption from the exhibition:
Ur-Land of Oz— An aquatint view — from one of our most beautiful printed volumes — of the pre-Kansas homeland of our local Volga German population, who brought to western Kansas the Turkey-red wheat (as well as the noxious and pesky Russian thistle and bindweed) and by the former helped fashion us into The Breadbasket of The World.