Special places archive
June 2004
Rimutaka incline railway
This website celebrates a remarkable New Zealand railway, and promotes a scheme to reconstruct it.
The steep Rimutaka Range was a barrier in the way of the railway line from Wellington to Napier. In the 1870s the engineers adopted a 'temporary' solution — special locomotives with extra horizontal driving wheels on both sides of a central rail. The system was designed and patented by English engineer John Fell. Four Fell locos started work in 1878, and two more were added to the fleet in 1886. They worked a 4.8 km line that climbed 265 m, with a maximum grade of 1 in 13.
This is how the system worked: When a train arrived at the bottom of the incline, the crew uncoupled its ordinary loco, and interspersed four or more Fell locos among the wagons for the slow, noisy and smoky climb. At the top, the wagons were assembled behind another main line loco for the rest of their journey. Each train on the incline had several special brake vans, with iron brake shoes that gripped the centre rail.
This system was slow and costly. Breaking up and reassembling the train at the top and bottom of the incline took time, and the train needed a large crew — a driver and fireman for each loco, an operator for each brake van, plus the guard.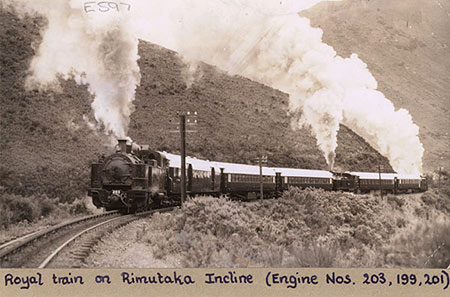 This 'temporary' system remained in use for 77 years, until a long tunnel was driven under the range. In 1955 the incline track was removed. The station buildings were sold for removal. Five locos were cut up for scrap, and one was given to the people of Featherston. This engine — the only Fell loco left in the world — is now the centrepiece of the Fell Engine Museum.
The website is a fine example among railway enthusiasts' websites. It nicely explains the history and technicalities of the Fell system, and describes the incline and the other sections of the line. It also promotes the idea of reconstructing the railway as a tourist magnet — this strikes me as a courageous idea.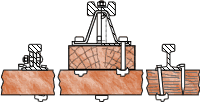 Here are pointers to other websites about the Fell engines and the Rimutaka railway:
The

walking and bike track

along the old railway line
Technical details of the locomotives
Models of the Fell loco made of

Lego

and Meccano
Some photos I took in the museum