Really big cameras
Wednesday 11 September 2002
I am prompted by today's sad anniversary to mention two more big cameras, both even larger than the 20 x 24 inch monsters made by
Polaroid
and
Wisner
.
In the late 1970s Polaroid built a one-off camera to make 40 x 80 inch images. They called it the Museum Camera, and the Boston Museum of Fine Arts photographed paintings with it. After 11 September 2001 a group of photographers led by Joe McNally used it to make studio portraits of World Trade Centre rescue workers, producing an
exhibition
and
book
entitled
faces of ground zero
. The project has attracted
lots of attention
, overshadowing an AIDS benefit
exhibition
of pictures taken with the big camera by Catherine Opie in 2000.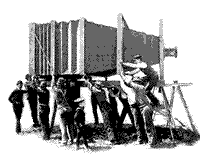 But the big Polaroid had an even bigger ancestor. George R Lawrence built a camera to make pictures of a Chicago & Alton Railroad train for display at l'Exposition Universelle in Paris in 1900. The camera was called the Mammoth, took 54 x 96 inch glass plate negatives, was transported on a special railway wagon, and was operated by a team of 15 men.