Marking time in September 2010
Thursday 16 September 2010
Uses for a mobile phone
In my little box of 19th century prints is a steel engraving of a drawing by Thomas Allom of the interior of the Panthéon in Paris. It's not especially rare or valuable, but I like it for the quality of the print and the connection with my former archi­tec­tural partner Richard Allom (distantly related to Thomas).
I wanted to 're-photograph' the scene that Thomas Allom drew, so I needed a copy for reference. A google search turned up a print-dealer's online catalog with an image of the Panthéon print, which I copied to my phone. With this in my hand, I found the right spot to stand. I can vouch for the general accuracy of the drawing, with a proviso. I think it is based on a properly set-up perspective drawing, but using a point of view outside the building​—​impossible, in other words, because this view is blocked by the front wall of the building.
With my widest lens (Canon EF 17-40mm f/4L on EOS 5D), and with my back against the wall, I could not get all the parts of the ceiling that Allom showed into the picture. Not, that is, unless I tipped the camera up and caused the columns to topple, and that would never do.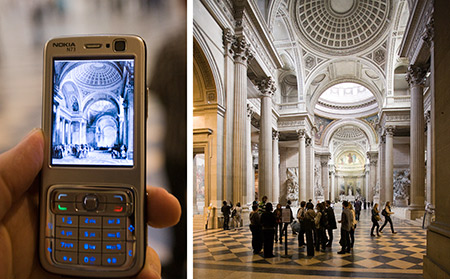 Since some time back in the nineteen-eighties, as a member of Australia ICOMOS, I have received each year a plastic card from the ICOMOS secretariat in Paris. Now, for the first time, I am using the card. In France, ICOMOS members enjoy free ad­mis­sion to various historic sites. Of direct relevance to me this week, I flashed the card at the Panthéon (save €8), the Palace of Ver­sailles (save €25), the Musee d'Orsay (save €8), the Institut du Monde Arabe (save €12)​—​a total saving of €53 (say A$73) over a few days, better than a poke in the eye.