Marking time in March 2003
Sunday 23 March 2003
Collecting saw handles
As a harmless distraction from war and mayhem, consider the aesthetic merits of saw handles. Like this one — the beech handle of a nineteenth century dovetail saw made by Thos Turner & Co, of Sheffield.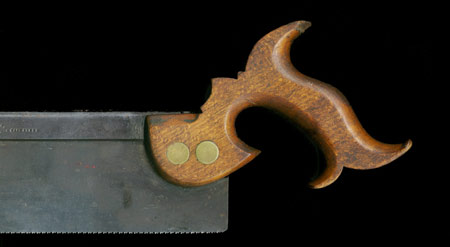 I did not think up the idea of showing you this. I was prompted by the website of Los Angeles cabinetmaker Bob Brode, with its collection of saw handles. Here's what he says about them:
Having looked at and held quite a few saw handles over the last few years, I've become intrigued with their variety. Every maker seems to have had their own twist, however slight, and many are quite handsome as purely aesthetic objects. It's also interesting to see how differences that are visually small can have a noticeable effect on feel, especially for prolonged use. Also, over time many have acquired attractive colorations and patinas.