Marking time in June 2018
Wednesday 20 June 2018
How to rectify and perpetuate your recollections
Since the 1960s I have carried a camera when I travel, and taken pictures so I can ex­am­ine them afterwards. I know that most trav­el­lers use phone cameras for this now. I carry a phone too, but don't like using it as a camera. So I keep on schlepping a serious camera (and even a tripod) on my trips. These tools help me to take photographs in a more observant way. Yes, I'm out-of-date, I know.
For something even more out-of-date, I enjoyed reading an article entitled 'Notes for travelers in Europe' that appeared in Harper's new monthly magazine, volume xxxix, June to Novem­ber 1869. Let me quote some of it:
Many persons regret, as they draw near the close of their tour, that they have not preserved more mementoes of the scenes through which they have passed. This is often the case with those who travel rapidly, and find their im­pres­sions becoming confused and inexact. Photographs of the places seen rectify and perpetuate our recollections; and one could not have a more valuable souvenir of a glimpse of Europe than a portfolio of large photographs. The traveler can supply this, in some degree at least, in Paris or New York, on his return; but half the value of the picture is de­pend­ent on the recollection that you bought it on the spot, or picked it out as the best, from among Allessandri's or Macpherson's treasures at Rome, or Carlo Ponti's under the arcades in Venice. Large photographs can be conveniently bought unmounted. They can then be rolled, and a large number can be carried in a small space; and at home any good photographic artist can mount them at a trifling expense.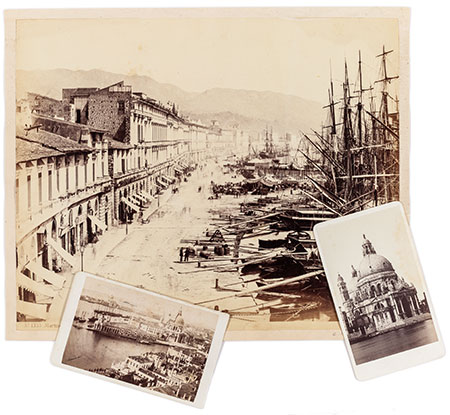 For young people nothing is better than the little pho­to­graphs of carte de visite size. It you require a young girl to choose these for herself, and to write with her own hand, on the back of each, the name of its subject, and the place and date of purchasing it, she will make a charming itinerary without the trouble of "journalizing." She will look them over constantly, to while away tedious hours in railway cars and describe them to companions she meets, and will bring home far more vivid recollections than unaided memory could retain. Not only scenery and cities are il­lus­trated in this way, but copies of the finest works of art, pictures of the picturesque local costumes, and portraits of noted men and women, may be obtained in the same form. Nothing could be a more instructive amusement than to collect in this way notable ideals in the art, history, and to­po­graphy of the countries visited.