Marking time in August 2010
Thursday 5 August 2010
Mr Rigby's photographic studio
Why did a nineteenth century photographer in a Yorkshire village call his business the Australian studio?​—​a question prompted by a carte-de-visite I just bought.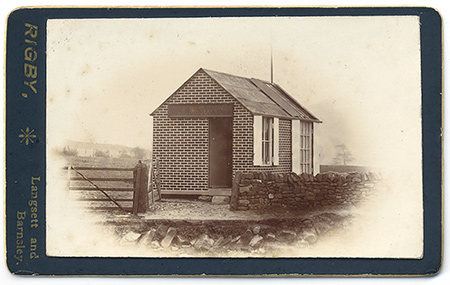 The google map shows that Langsett is a small village in Yorkshire on the eastern edge of the hills of the Peak District. Street view shows that the village still sits in a farming landscape with fields enclosed by stone walls​—​the same as we see in the old photo. Barnsley, by contrast, is a substantial town. I surmise that the photograph is of Mr Rigby's establishment outside the village of Langsett​—​in Barnsley he might have had more substantial premises.
I can imagine the photographer riding out from his headquarters in town to the little studio outside Langsett​—​a distance of about 11 miles​—​to photograph the folk from the farms around. The cosy timber framed studio, with its mock brick cladding and its big glass window and skylight, would have looked inviting to his clients. What would they have made of the name, Australian studio, on the neat sign?