Marking time in January 2012
Friday 20 January 2012
Kodak in collapse
The news that Kodak has filed for bankruptcy in the US prompts me to think about this company, which dominated the com­mer­cial and technical aspects of photography throughout the twen­tieth century. Among the many Kodak products I have used, I fondly remember my first two cameras, the Carousel projector, Kodachrome film, the 100 mm Wide Field Ektar lens on my first 4x5 camera, and countless Austral postcards.
In 1888, with the introduction of the first Kodak camera George Eastman changed photography by allowing ordinary people to take photos without needing their own darkroom. The camera was sold loaded with a roll of film that could take 100 pictures. Owners sent the camera back to the Kodak factory for pro­cess­ing, printing and reloading. Hence Kodak's slogan, "You press the button, we do the rest."
This was a social transformation as great, in its time, as the intro­duction of the mobile phone camera.
The original Kodak camera made circular images, about 64 mm diameter. Each image was contact printed onto an 80 x 103 mm sheet of albumen paper, with the corners nicely rounded.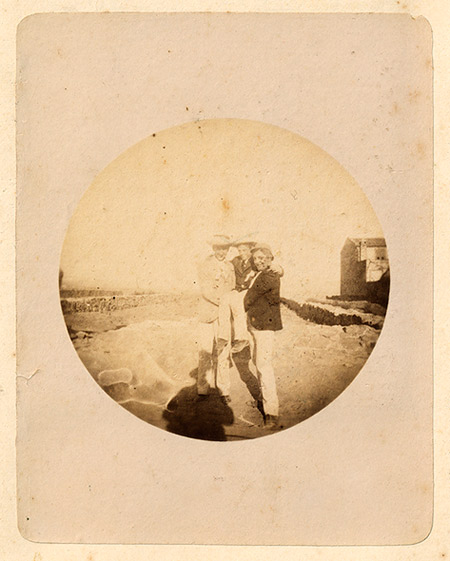 Tuesday 10 January 2012
A most delightful trip (not)
A hundred years ago the postcard was a favoured medium for quick informal messaging. The limited space, and the idea of quick communication, encouraged a short, informal writing style​—​having a great time, wish you were here. Perhaps the fact that somebody bought and posted a card said as much as the words written on the back.
Randomly selected samples of these ephemeral mess­ages have survived. Most of them are boring, but there are some quirky gems, with weird and delightful images on the front, and won­der­ful stamps, captions, and postmarks on the back. Not to mention the mess­ages written on them: profound or trivial, original or formulaic, terse or turgid.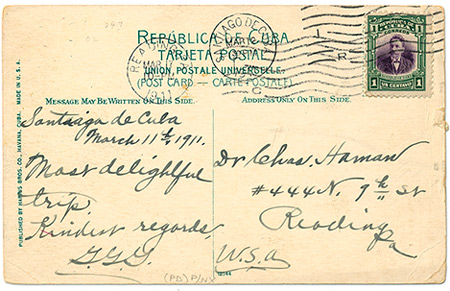 I like this example. On the back, a typically cryptic message, ad­orned with an exotic stamp and a collection of postmarks. On the front, a photo of a lighthouse at Guantánamo Bay​—​then, as now, a possession of the United States of America.
With my resolution for 2010 in mind, I have to say I am not so keen to visit this lighthouse (which still survives, in poor con­dit­ion). Knowing what happened to Lakhdar Boumediene and many others would spoil the visit.