Marking time in October 2002
Tuesday 29 October 2002
Utility kilts
The things you find on the web. A range of tartan-free kilts, including this one:
A multi-functional kilt designed for working men. Extra pockets and a modesty snap between legs. Two exterior rear pockets. Two side mount saddle pockets, with "the Grip" retractable side hammer loop and front key loop. Patent Pending Wallet Grip rear pocket. Right side scraper/­pencil pocket, heavy duty rivets at all major pocket stress points. 12 ounce Duc cloth. Fully pleated from bottom to top. Available in Neo-Traditional closure method only.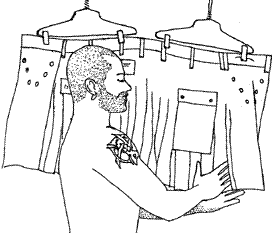 From the care instructions:
After pulling Workman's Utilikilt from washing machine, snap out major crinkles…. While guiding your hands down the pleats, focus on elongating and flattening the fabric in a downward motion.