Marking time in November 2006
Friday 17 November 2006
Headcounting at Camp Delta
I have just found Jonathan Corum's Camp Delta web page, subtitled Nationalities of enemy combatants detained at Guantanamo Bay, the "legal equivalent of outer space". The page is dated February 2004. Old news. But still current.
Corum has drawn graphics to represent each of the men detained at Guantanamo Bay, standing in groups according to their nationality. One hundred and sixty men stand by the flag of Saudi Arabia. Eighty-five from Yemen. Eighty-two from Pakistan. One each from Sweden, Spain, Kenya. One from Iraq. And so on, to a total of six hundred and nineteen.
Two figures stand beside the Australian flag​—​I know they are Mamdouh Habib (who was released in January 2005) and David Hicks (who is still at Camp Delta). There is one figure holding an American flag, but he is not a detainee.
I admire the graphics, but deplore the facts they represent.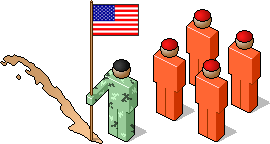 Wednesday 1 November 2006
Kangaroo Island
I'm at Kangaroo Island, inspecting lighthouses. Today's subject was the Cape St Alban Lighthouse, which deserves an award for cuteness.