Marking time in January 2011
Sunday 23 January 2011
After the flood
When I was a child in primary school an old man gave me a stack of photographs​—​a couple of dozen whole-plate contact prints with scenes of the 1893 Brisbane River flood and its aftermath. At the time, I thought those pictures were wonderful, and I still do. They started my interest in the history of photography, and they were the beginning of my own little collection.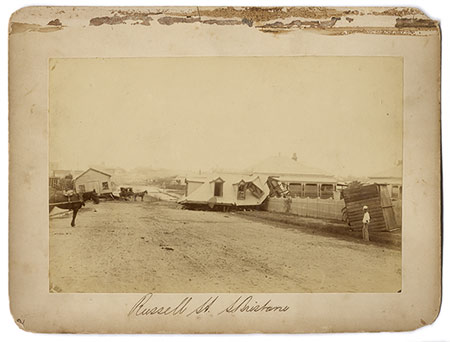 Knowing the value of old photographs, and the devastation of floods, I was shocked to hear from Marcel Safier on 14 January that the Sandy Barrie collection of images and photographica had been damaged by flood waters at Bundamba. Sandy's house, containing thousands of cameras and tens of thousands of pho­to­graphs, had been filled with muddy water on both storeys. I have been helping to salvage something from the wreckage​—​along with a band of Sandy's friends, camera collectors, photo historians, conservators, and citizens in general.
The Ipswich Little Theatre Society allowed their air-conditioned theatre and rehearsal space to be used as a conservation lab to treat damaged glass plate negatives and other kinds of photo­graphs. Special credit must go to professional conservator Lydia Egunnike (photographic specialist) who with other members of AICCM worked tirelessly, pro bono, to guide the volunteer help­ers. There's a whole lot of work to do, but it's off to a good start.
Other groups of helpers have been working on other sections of the collection. Here's John Elliott's video about a team in Too­woom­ba organised by Doug Spowart.