Marking time in July 2018
Tuesday 10 July 2018
Daniel Marquis, boat person
Most Australians are boat people, or descended from boat people, which ought to make us more sympathetic to asylum-seakers than we seem to be. To understand this business better I have started to search for my own im­mi­grant forebears. I want to know who they were, how they got here and what they did.
I know a little about my 2nd-great-grand-uncle Daniel Marquis. He emigrated from Scot­land with his wife Grace and their chil­dren Isa­bella, John and James. They sailed from London on the clipper Flying Cloud and arrived in Brisbane in 1865. I've re­cently col­lected a carte-​de-​visite picture of that famous ship​—​it's a nice reminder of Daniel's situation as a boat person, given his occupation as a carte-​de-​visite photographer in both Scotland and Australia.
Flying Cloud was built in Boston in 1851 as a fast passenger sailing ship. The California gold rush was on, and people would pay good money for a fast trip from the east coast of the US to the west, by way of Cape Horn. In 1854 Flying Cloud set the record for the fastest passage under sail from New York to San Franciso​—​89 days and 8 hours​—​a record that stood until 1989.
In 1862 the ship was sold to Thomas Mackay of Liverpool, and began to carry passengers from the UK to Australia and New Zealand. Between 1863 and 1870 Flying Cloud carried more than 2,000 passengers from England to Queensland. The usual pat­tern was to sail from London to Moreton Bay with passengers, then to Sydney in ballast, then back to London with a cargo of wool. In 1871 the ship was sold again, and worked carrying tim­ber from Canada to the UK, and coal the other way, but was wrecked in Canada in 1874.
A letter to the editor of The Brisbane Courier, 15 March 1866, gives us an idea of how the Marquis family arrived in Brisbane. The writer used the pen-name eye-witness:
Sir,​—​Allow me to call the attention of the powers that be to the impropriety of landing immigrants at the unseasonable hour of midnight as was done in the case of those brought up from the Flying Cloud on Monday night or yesterday morn­ing. I am informed that the steamer Diamond left the aforesaid ship with a small schooner in tow, conjointly con­tain­ing 400 souls, more or less, with a quantity of luggage, at the late hour of 8 p.m. And, bye-the-bye, I am not aware whether the said schooner is licensed to carry passengers; or, at any rate, the number they huddled together on this particular occasion. Among them were several families, numbering perhaps three, four, or more, each protected by their father and mother, whose time would be fully oc­cu­pied in endeavoring to comfort them under the cir­cum­stances and keep them together to avoid their getting into danger.
No provision was made for supplying such a number with a drink of water, say nothing of a pot of tea and a bite of bread, which to a mother with a large family around her crying for the common necessaries of life would be a God-send.
Then, again, at the late hour of midnight to be bundled ashore into that barn of a place in South Brisbane called the Immigration Barracks, where men, women, and children are indiscriminately thrown together without preparation of any description​—​their luggage pitched ashore as soon as possible to enable the vessels to proceed on some other venture.
Surely, Mr. Editor, this is not the way to treat human beings after enduring the hardships of a crowded ship during a long sea voyage, which of itself is bad enough. But after completing that pilgrimage to be penned up like a flock of sheep, without the smallest regard even to decency or comfort, is bevond nil bearing.
I think. Sir, it is high time the Government bestirred themselves in this matter and made preparation for the receipt of immigrants; and also to provide that immigrants should not be allowed to leave their ship at an un­rea­son­able hour of the night, so that on landing even payment will not procure for them the shelter they require.
Daniel set up a photographic studio in Brisbane and continued in this business until he died in 1879. His wife, children and sister-in-law all lived out their lives in Queensland, and their many descendents are still around.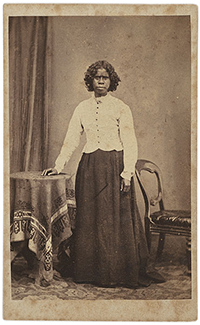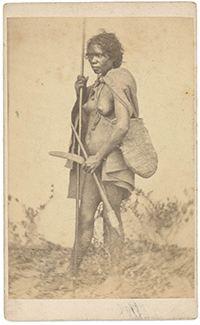 The most interesting aspect of Daniel's work in Brisbane was pointed out to me by Michael Aird:
From the available photographic record it appears that Daniel Marquis was the most active Brisbane-based photo­grapher of Aboriginal people in the 1860s. He operated a photographic studio at 82 George Street, Brisbane, from 1866 until his death in 1879. I have managed to identify more than seventy photographs of Aboriginal people taken by Marquis during his time working in Brisbane.

Michael Aird, 'Aboriginal people and four early Brisbane photographers', in Jane Lydon (editor), Calling the shots: Aboriginal photographies (Canberra: Aboriginal Studies Press, 2014), 144.
I don't have any original Daniel Marquis photos of Aboriginal people in my collection, but I am familiar with many that are in public collections. Michael Aird has studied these photographs in depth, and he knows descendents of many of the people who are pictured in them. As he explains​—​in the article I quote from above, in several lectures I have heard, and in Captured, an exhibition at the Museum of Brisbane​—​Michael sees them as evidence of cultural and eco­nomic interactions between pho­tog­ra­pher and subject.