Marking time in December 2014
Sunday 21 December 2014
A Christmas pudding at sea
In the late 1800s illustrated weekly news­papers published some of the best artists of the day, through the medium of the wood en­grav­ing, as I have mentioned before. Before half-tone re­pro­duc­tion of photo­graphs came in, this was the common way to publish re­al­is­tic im­ages of both ordinary and extraordinary events.
I have chosen another wood engraving for my email Christmas card for 2014​—​the fourth in a series. There is no lighthouse in this one, but there is a Christmas pudding, and a story of life at sea. The artist was Edwin Buckman (1841–1930) and he called the picture A Christmas pudding at sea.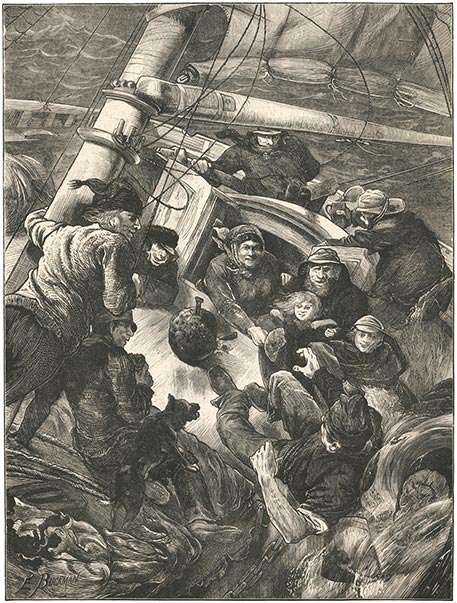 Buckman has drawn a view of the deck of a sailing vessel healed over in a heavy sea. We see ten people, rugged up against the cold, huddled around the companionway. At the centre is the big Christmas pudding which appears to be fixed to the deck by a mar­lin­spike driven through its middle. There is a knife stuck into the pudding but no other cutlery or crockery is in sight. This is not a luxury cruise.
The picture is full of other details. We are looking for'ard. The bow is plung­ing into a rough sea. The people are hunkered down on the deck, except for one man who is hanging onto the mast​—​a mast rigged with a fore-and-aft sail with sheets eased right away, and a reef in the sail. We are running before a stiff wind, and con­di­tions are pretty lively.
Who are these boat people? Refugees? Eco­nomic migrants? Why have they put them­selves in harm's way, with the children too? Did they pay money to some merchant of danger to make this trip?
The magazine published a poem, Ode by a Christmas Pudding at Sea, in the same issue, which adds another layer to the story:

ODE BY A CHRISTMAS PUDDING AT SEA


lat. 49° 5′ n.; long. 9° 17′ w.

[where?]

To all you Puddings now on shore
I write, to give a notion
Of what mishaps there are in store
For Puddings born on Ocean :
It blew a gale from sou'-sou'-west,
But the skipper's wife she did her best,
As she kneaded the dough on her own sea-chest,
With a fal lal lal lal la.

The vessel gave a lurch, a wave
Right down the hatchway came ;
The skipper's wife stood stout and brave,
I wish I'd done the same ;
For I rolled in a fright along the floor,
And the skipper, coming in at the door,
Gave me a kick, which my jacket tore,
With a fal lal lal lal la.

His good wife gather'd up the bits,
And put my limbs together ;
Says she, "I must have lost my wits
To cook in such foul weather ;
But sailor-boys they love good cheer,
And Christmas comes but once a year,
So I won't be beat, I'll persevere."
With a fal lal lal lal la.

The galley fire burnt bright and clear
As she put me into the pot ;
Thinks I, "It suits me being here,
I feel so jolly and hot."
But a great green sea burst over the deck,
And I fancied myself a perfect wreck,
In cold salt water up to my neck,
With a fal lal lal lal la.

Cries cook, "The Pudding's surely spoiled."
"No, no ! " says the skipper's wife,
"That Christmas Pudding shall be boiled,
If I sacrifice my life."
With her own fair hands she lit the fire,
And though the waves rose higher and higher,
At last she accomplished her desire,
With a fal lal lal lal la.

And here they are, these Sailor boys,
All full of mirth and glee ;
They sit in a ring, with lots of noise,
And they're going to eat poor Me !
When smack ! there comes a roaring squall,
A lurch- and into the scuppers fall
Sailor boys, Christmas Pudding, and all,
With a fal lal lal lal la.

SALINA
Monday 15 December 2014
Broxburn school
I recently inspected the buildings collected in the Pioneer Village at Pittsworth on the Darling Downs, with my historian colleague Dr Thom Blake. One of the buildings is a one-teacher school from Broxburn near Pittsworth.
The school was built by the local community and opened as a pro­vi­sional school in 1898. Provisional schools were set up in places where there were few pupils, and were usually temporary structures. This building was a cut above the norm. It became a State School in 1909, and closed in 1959.
As Thom pointed out, provisional schools were ephemeral, and this is a rare and highly significant survivor. I'd be interested to hear of any others.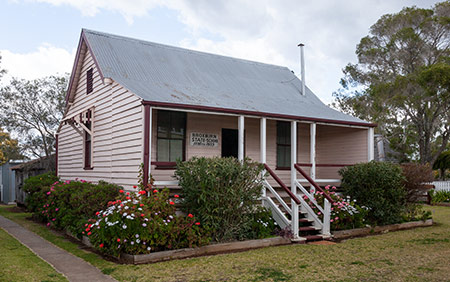 The Department of Education has published a short online history of Queensland provisional schools.