Marking time in May 2011
Sunday 15 May 2011
Steamship 'Denmark'
Millions of
carte-de-visite photographs
were produced in the second half of the nineteenth century. Almost all of them were studio portraits, but there were also a few topographic subjects like buildings and landscapes. Even rarer were cartes produced as commercial advertisements, and here is an example.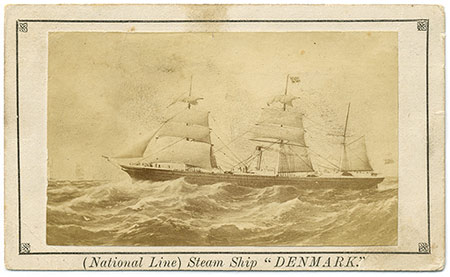 According to Norway-heritage the steam ship on the card was built in 1865 in England for the West India & Pacific Line and named the Chilian. It was soon sold to the National Line, re­named Denmark, and began carrying migrants from northern Europe across the Atlantic to America.
I'm guessing here, but I can imagine a shipping agent handing one of these little photos only to a person rich enough to afford a cabin passage. The great majority of passengers​—​who traveled in cramped dormitories on the lower decks​—​would have been lucky to receive a plain printed handbill listing ports of call and sailing dates.