Marking time in March 2006
Thursday 30 March 2006
John Ruskin's Daguerreotypes?
From an article in the UK Telegraph newspaper yesterday:
A small country firm of auctioneers has been left em­bar­rassed but elated after selling a box of photographs it valued at £80 for £75,000.
Today it has emerged that these photographs of Venice may have belonged to John Ruskin.
Prof Robert Hewison, a Ruskin Foundation trustee, said: "If these are Ruskin's Venetian Daguerreotypes it is an amaz­ing and fantastic discovery. They are extremely important for the record of Venice as it was when Ruskin was there from 1849 to 1852."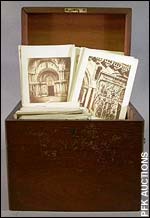 Sunday 19 March 2006
LibraryThing
Books recently added to my library catalog: