Marking time in July 2009
Thursday 9 July 2009
Carte-de-visite or visiting card?
I have just bought a little photograph on ebay. It's not from Queensland, so it doesn't fit my collection, but it took my fancy.
On the front is an albumen print, rather faded, of a pretty Italianate villa, with stone arcades, polychrome brickwork, cast iron filigree cresting, and a conservatory. The house sits in a picturesque garden, with strolling paths and flower beds. I think it's a copy of a watercolour picture of the scene, not a photograph from life. It looks like the house of somebody who had done well in Melbourne, perhaps as a merchant or a speculator in mining stock.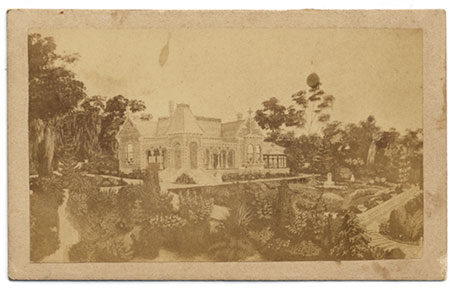 The print is mounted on a card, about .5mm thick, a little thinner than most carte-de-visite mounts. The front is plain, except for the print. On the back is printed Mr. Thomas Burrows. | St. James's Park, | Hawthorn in elegant copperplate script. No artist or photographer is acknowledged and, from the back, it looks exactly like a late nineteenth century visiting card. It wouldn't look out of place among other calling cards on a silver tray on a hall table in a villa in Hawthorn. It is slightly yellowed, and marred in four spots where it might have been glued into an album and later pulled out, but these flaws don't spoil it for me.
I found a photograph in the State Library of Victoria collection which shows the same house and garden on the banks of the Yarra River around 1880. I looked along the Yarra on the google maps satellite imagery, but couldn't see Mr Burrows's villa. I guess it has gone. Thomas Burrows did not make it into the ADB, and some google searching for his name did not find anything relevant. I wonder who he was (apart from being the proud proprietor of this estate), and whether he did use this card as his visiting card. It is certainly not a typical carte-de-visite.