Marking time in July 2013
Tuesday 23 July 2013
The purser of the steam yacht 'Merrie England'
Since Papua New Guinea is in the news, I'll mention a cabinet photograph I recently bought from a dealer in England. It's a portrait of a handsome young man wearing a naval officer's cap and coat. It suggested a few lines of inquiry.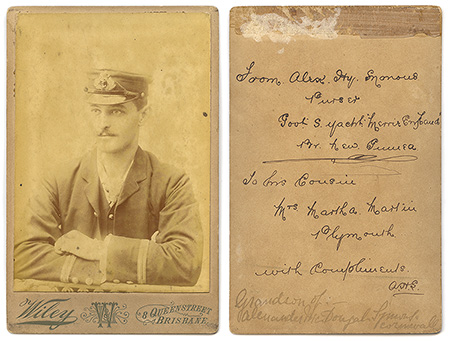 Let's start on the front of the photo. The studio name, Wiley, a large decorative W, and the address 8 Queen Street Brisbane are printed at the bottom. These give us clues about when the por­trait was taken. Davies & Stanbury say that John Wiley was at that address from 1890 to 1894.
I searched newspaper advertisements to get more precise dates. On 26 April 1890 John Wiley advertised that he had bought the business of the Elite Photo Co at 8 Queen Street. He kept using the Elite Photo Studio name, linked with his own, until about February 1891. I guess he benefited from the goodwill of the Elite name, and was obliged to wait for a month or two while a stock of card mounts was printed with the Wiley name. This suggests mid-1890 as the earliest date for our portrait.
Davis & Stanbury say that Wiley moved next door to 10 Queen Street after 1894. But the newspapers don't agree. The record seems clear that Wiley stayed in the same premises at 8 Queen Street until he formed a new partnership and, as Wiley & Stur­gess, moved to Lomer & Co's old studio at 158 Queen Street in March 1905.
So, the portrait was taken after about June 1890, and before March 1905.
On the back of the card are more clues. There is a dedication (written by the young man in the picture, I assume): From Alex. Hy. Symons: Purser: Govt. S. yacht 'Merrie En­gland': for New Guinea: To his Cousin: Mrs Martha Martin: Plymouth: with Compliments: A.H.S. A note in a different hand and lighter ink says Grandson of Alexander McDougal Symons, Cornwall. The purser is the ship's officer responsible for keeping the ship supplied with food, drink and other goods.
I had not known about the Merrie England, but found lots of references in the newspapers. This is from the Sydney Morning Herald, 25 February 1889:
The Colonial Office have just purchased two small steamers for the use of the New Guinea administration. One is a boat that was used during the Nile Expedition, and is of light draught, so as to be suitable for river and inland nav­i­ga­tion, and the other is a yacht of some 411 tons burden. This latter vessel … is called the Merry En­gland. At present it is stationed in the East India Docks, but it is expected to be ready to start for the colony in about a month's time.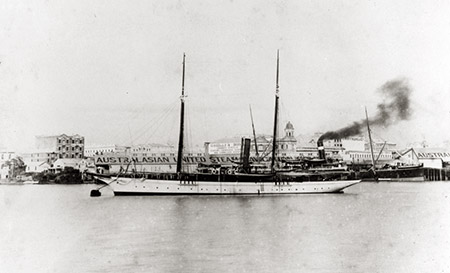 The Brisbane Courier, 26 April 1889, had a long article headed 'Steam yacht for New Guinea service' (I have broken the rather dense text into paragraphs to make it easier to read on screen):
The steam yacht Merrie England, which was purchased by the Imperial Government for the New Guinea service, and left London about the end of February, is daily expected to arrive at Thursday Island.

It will be remembered that by the terms of the British New Guinea (Queensland) Act the Imperial Government agreed to contribute a suitable steam vessel for the service of British New Guinea at a cost not exceeding £18,500, with the cost of its maintenance during the first three years, estimated at about £3,500 per year. In October last the Acting Governor, Sir Arthur Palmer, requested the Sec­re­tary for State to purchase a steam yacht for New Guinea, and it appears considerable difficulty was experienced in finding a suitable vessel, owing to the necessity for her being either composite or wood, and also for her not drawing too much water.

Early in November the Merrie England, belonging to Mr Bailey, of Hull, was examined at that port by the Admiralty surveyors; by Captain Almond, despatch officer of the Queensland Government, and by Lloyd's surveyors. The vessel was found to be in a thoroughly satisfactory condition in every respect, and it was decided that with certain alterations she could be rendered suitable for the purpose for which she was required. The purchase was completed on 3rd January, the price paid being £8,500.

The following is a description of the vessel as pur­chased. She was built in 1888 by Ramage and Ferguson, of Leith. Her length is 147 ft; beam, 25 ft 2 in; depth, 13 ft 4 in; draft of water, 13 ft 0 in aft, and about 10 ft forward; head­room in cabins, 7 ft 0 in; registered tonnage, 170 tons 6 cwt; gross, 259 tons 8 cwt; yacht measurement, 411 tons; dis­place­ment, about 400 tons; engines, two inverted com­pound, by Ramage and Ferguson​—​diameter of cylinders, 17 in and 34 in; length of stroke, 22 in; nominal horse-​power 60, indicated about 260; present speed under steam, 9 knots; consumption of coal, 4½ tons per twenty-four hours; bunker capacity, about 75 tons; fresh water, 7 to 8 tons; ballast, 20 tons of lead on keel, and about 60 tons of iron and lead in hold.

A number of alterations have, however, been made since the purchase. The spars have been reduced in size, and the sails and rigging altered to correspond. The hull has been stripped, caulked, and recoppered, and the top sides painted light stone colour. Several inches have been taken off the keel, and the ballast reduced so as to bring the draught to 12 ft 6 in. The funnel has been lengthened, and a new four-bladed gun-metal propeller has been fitted with four spare blades and spare tail shaft instead of the original two-bladed feathering propeller. This alteration has in­creased her speed to over 10 knots. The large cutter, 25 ft by 6 ft, has been converted into a steam launch, and a new whaleboat supplied, with all necessary awnings and gear; she has also a four-oared gig and a dingy.

The original inventory of the vessel was complete for a yacht, but in addition she has been fitted with double awnings, punkahs, ice-making machine, and all other stores and necessaries, in order to render her suitable for service in the tropics for a long period without further outlay. A duplicate main-crank shaft and other spare engine fittings and stores have also been provided.

She is armed with a three-barrelled Nordenfelt quick-firing gun, Martini-Henry carbines, revolvers, and cut­lass­es, with a large supply of ammunition.

Captain Hampton, late of the SS Barcoo, who took the Waroonga home, and has lately been engaged in super­vising the building of several new steamers for the BISN Company for service on the Queensland coast, has been engaged to bring the Merrie England out on account of his intimate knowledge of New Guinea and Northern Queensland waters.

It was at first intended that the Merrie England should be taken direct to Port Moresby, but we understand that it is in contemplation to bring the vessel down to Brisbane and have her completely overhauled previous to beginning service in Now Guinea waters. There is a possibility that his Excellency the Governor of New Guinea, who is about to visit Brisbane, will return to New Guinea by the Merrie England after her overhaul.
On the delivery trip the Merrie England stopped at Thursday Island in early May 1889 and from there went on to Port Moresby to bring the Administrator of British New Guinea (Dr Macgregor) to Brisbane. The Brisbane Courier, 24 May 1889, takes up the story:
On arriving there, however, it was found that Dr Mac­gregor was still absent exploring the Owen Stanley Range, and was not expected back for a fortnight. As Captain Hampton had to leave, and the crew had to be re­com­mis­sioned, the Merrie England came on to Cooktown. Captain Hampton is now bringing the vessel to Townsville for coal. He will resign his command of the vessel shortly, as he has to return to England by the steamer Taroba to bring out anothor steamer for the BISN Company. Mr Atkinson, chief officer of the Lucinda, who has been appointed to the acting command of the Merrie England, will leave on Saturday for Townsville by the steamer Maranoa to take charge of the vessel, which will proceed at once to Port Moresby to bring Dr Macgregor to Brisbane.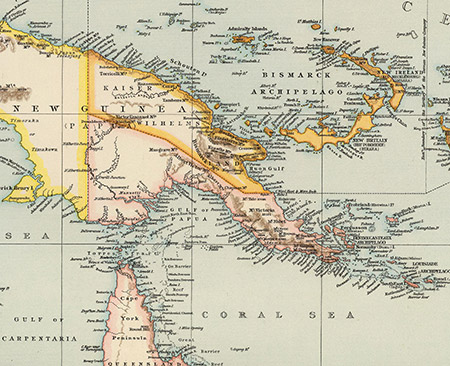 William Macgregor, administrator and later lieutenant-governor of British New Guinea, was an energetic colonial administrator. The newspapers have many accounts of his journeys, on land and on board the Merrie England​—​exploring the country, fa­cil­i­tating the work of colonisers and missionaries, and bringing British law.
The Merrie England first came to Brisbane on 31 July 1889, and left on 11 September. Here is a list of later more-or-less-annual comings and goings recorded in the newspapers:
1890

arrived 6 September, left 25 October

1891

arrived 14 October, left 25 November

1892

floated out of dry dock 2 November, on trials in Moreton Bay 26 November, left 3 December

1894

arrived 17 July

1896

in dry dock 5 February, expected to leave in the next week 25 February

1897

berthed at Port Office wharf 19 March
[Update: Alex Symons was no longer on board the yacht after 1897]

1898

arrived 24 December

1899

arrived 1 March, left 11 March
in dock 31 July

1901

moored in the river 12 September, in dock 16 September, left 2 November

1902

arrived 23 July, left 13 October

1903

arrived 12 March, left 1 May

1904

arrived 19 April, in dock 7 June, still in dock 22 June, in Sydney 26 July
Alex Symons might have been photographed in Wiley's studio during any one of those visits.