Marking time in March 2020
Tuesday 24 March 2020
Introducing Daniel Marquis
I have been plugging away, investigating my great-great-grand-uncle Daniel who came to Brisbane in the 1860s. I have started work on a website​—​Daniel Marquis: a Scottish photographer in colonial Queensland​—​but it's not quite ready to be seen.
For that website I have written this short account of Daniel Marquis. It corrects some furphies you might read in Wiki­pedia.
The account is based on reliable historical doc­u­ments; in­form­a­tion about those documents will appear in footnotes at the bottom of your screen when you put your mouse cursor on the asterisks in the text.*See, like this.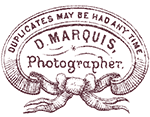 Daniel Marquis (1829-1879), photographer, was born*National Records of Scotland: Old Parish Registers: Births 644/2 40 196Z: Gorbals. Daniel was born on 17 May and baptised on 24 May 1829. and raised*Census of Scotland 1841 (Washington Street, Parish of Anderston) and 1851 (Crown Street, Parish of Gorbals). in Glasgow. He was the second of twelve children of John and Mary Marquis, who were grocers, victualers and spirit mer­chants.*Census of Scotland 1841 and 1851; Glasgow directories 1818-1849.
In 1851 Daniel married Grace Murray in Glasgow;*National Records of Scotland: Old Parish Registers, Marriages 644/02 0080 0060 Gorbals: 1 December 1851. he was 22 years old and working in a cloth warehouse*Census of Scotland 1851 (Crown Street, Parish of Gorbals).; she was 20 and keeping house for her father and her five younger siblings*Census of Scotland 1851 (Cathcart Road, Parish of Govan)..
Grace and Daniel went on to have five children, of whom three survived to adulthood.*National Records of Scotland, various birth and death records.
By 1855 Daniel was working as a photographer in Glasgow.*National Records of Scotland: birth register entry for Isabella McGregor Marquis, Daniel's and Grace's second child. In 1856 he was running his own studio in Grangemouth.*Advertisement, Falkirk Herald, 5 June 1856. In 1857 he was in Hamilton.*National Records of Scotland, birth register entry for John Marquis, Daniel's and Grace's third child. By 1858 the family had moved to Stirling where Daniel opened a studio in Mayday Yard,* Advertisement, Stirling Observer, 5 June 1858. then at 32 King Street,* Listing in Slater's royal national commercial directory of Scotland, for 1860 & 1861. and later in Barnton Place.*Carte-de-visite with Barnton Place backmark, dated 24 July 1863.
In 1862 doctors certified that Grace Marquis was insane and she was treated for several months in the Montrose Royal Asylum.*Montrose Royal Asylum records. For most of the following year she was in the Royal Edinburgh Asylum.*Royal Edinburgh Asylum records.
In late 1864 the family left Scotland for a new life in Australia. They sailed from London to Moreton Bay as fare-paying pas­sen­gers in the clipper ship Flying Cloud. The household​—​Daniel (35 years old), his wife Grace (33), their children Isabella (9), John (7), and James (5), and Grace's sister Margaret Murray (23)​—​arrived in Brisbane in March 1865.*'Flying Cloud', Brisbane Courier, 14 March 1865.
By the end of 1865 Daniel had rented studio and living space in George Street in Brisbane, the capital of the newly-separated colony of Queensland. Within a few years the family had bought land*Memorandum of conveyance, 7 March 1867, for Sub 5 of Eastern Suburban Allotment 93, Parish of South Brisbane. and built a house beside the river at Lower River Terrace, South Brisbane.*The house is visible in a photograph taken from the roof of (Old) Government House by Captain Verney (Album of photographs of Brisbane 1867-1869, National Library of Australia, Bib ID 3044189). They also used their government-issued land orders to buy 33 acres (13½ hectares) of rural land on the river at Indooroopilly.*'Crown lands sale', Brisbane Courier, 28 February 1867.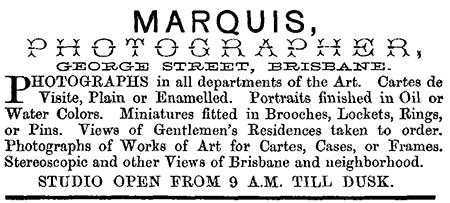 Daniel established a successful photographic business in the George Street studio.*An advertisement in the Brisbane Courier on 30 December 1865, offering for rent two of the four shops and dwellings in Markwells Buildings, suggests that Daniel had already rented his premises. He made portraits that were presented as albumen prints in carte-de-visite and larger formats.*There are many examples in public and private collections. Outside the studio he photographed the town's buildings and places, either on commission or for sale as stock items. He produced albums of views.*For example, an album presented to Prince Alfred, Duke of Edinburgh, after his visit to Brisbane​—​see Brisbane Courier, 18 May 1868. He showed his work in exhibitions,*Brisbane Courier, 29 June 1866. took forensic pho­to­graphs for the police,*'Murder', Brisbane Courier, 4 January 1870. provided photographs to make engravings for publication,*Brisbane Courier, 9 August 1870. and he made copies of drawings.*The Queenslander, 15 July 1871.
His most remarkable work was a series of photographs of In­di­gen­ous people who posed in his studio for solo and group por­traits​—​he was the most prolific Brisbane photographer in this genre in the 1860s and 1870s.*Michael Aird, 'Aboriginal people and four early Brisbane photographers', in Jane Lydon, Calling the shots: Aboriginal photographies (Canberra: Aboriginal Studies Press, 2014), 144.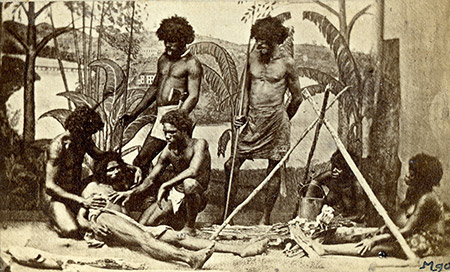 In 1873 Grace Marquis had another breakdown and was treated at the Woogaroo Lunatic Asylum near Brisbane.*Queensland State Archives, inquest file, item ID 2725918.
Daniel Marquis died of hepatitis in 1879 at the age of 49*Register of deaths in the district of Brisbane, 23 January 1879. and was buried at South Brisbane Cemetery.*Funeral notice, Brisbane Courier, 27 January 1879. He left his estate to his sis­ter-in-law, Margaret Murray, as trustee for Grace and the three children.*Will made 7 March 1873, Queensland State Archives, ecclesiastical (will) file, item ID 2803147. Daniel's photographic business, including his archive of negatives, was sold to another operator,*'Imperial Photographic Gallery', advertisement in Telegraph, 7 June 1879. but it was closed about a year later.*The business was repeatedly advertised for sale in the Brisbane Courier from 24 June to the end of July 1880.
Grace was admitted to the Woogaroo asylum again in 1881 and died there in 1882.*Queensland State Archives, inquest file, item ID 2725918.
The three Marquis children who came to Queensland in 1865 all married and stayed in Queens­land.*Isabella Marquis (1855-1923) married John Baker in 1888; John Marquis (1857-1918) married Agnes Bailey in 1881; James Marquis (1859-1892) married Margaret Appleby in 1892. Grace's younger sister Margaret continued living in the house at South Brisbane until she sold it in 1887.*Land title records.
The lives of Daniel Marquis and his family exemplify the ex­per­i­ence of Scottish migrants who came to Queensland in the 1860s. Daniel did not leave a cache of diaries or letters to tell his story, so much of his personal life remains obscure, but a substantial photographic legacy has survived in private and public collections.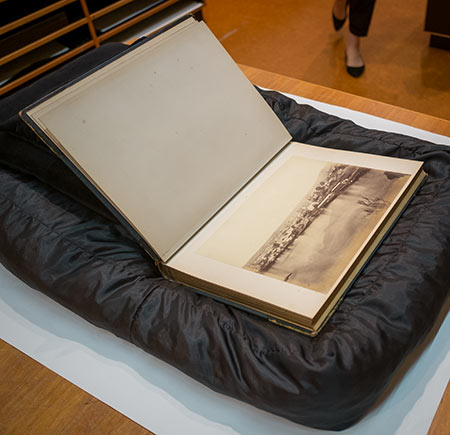 Photographs by Daniel Marquis are in the following public collections:
State Library of Queensland
State Library of New South Wales
State Library of Victoria
National Library of Australia
Queensland Museum
Queensland Art Gallery
Berliner Gesellschaft für Anthropologie, Ethnologie und Urgeschichte
Pitt Rivers Museum at Oxford University
National Gallery of Australia