Animal glue
Tuesday 16 April 2002
As old trades fade, amateurs take up some of them and support the market for all sorts of obscure stuff. Dr Rudolf Dick sells tools and materials for cabinet and musical instrument makers from a shop in Metten, Germany.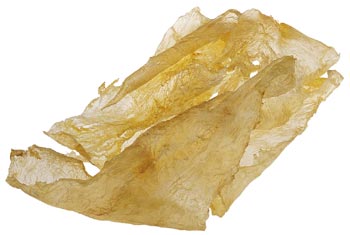 His beautifully illustrated catalog came in the mail yesterday — the same content as his website, but nicer for reading in bed. The range is remarkable, including five kinds of glue made from animal body parts:

» Bone glue (for hard bonds) €4.90 / kg
» Hide glue (for more flexible bonds) €6.40 / kg

» Rabbit skin glue in powder (higher viscosity than hide or bone glue — for very strong bonds, excellent value) €8.40 / kg

» Rabbit skin glue in sheets (extremely strong, slow setting bonds, ideal for use in gesso) €90.00 / kg

» Genuine isinglass glue (obtained from the air bladders of Russian sturgeons — low viscosity glue for the strongest bonds) €215.00 / kg.