Ftrain spotting
Wednesday 20 February 2002
Ftrain is listed in my bookmarks under the heading blogs. But it's not the usual daily stream of jottings and outbound links. Paul Ford writes short pieces of fiction and non-fiction, each richly linked to other pieces on the site. You can follow con­nec­tions up and down a hierarchy of subjects, sideways to related pieces, or back and forth chronologically. Ftrain is built on a database of content, and (I guess) some nifty programming that maintains the pages.
Among its reader services Ftrain can keep a tally of the pages you have seen. I recently discovered and signed up for this service, and today it told me: Your name is Peter and you've visited this page 2 times. You've seen 28 pages on this site out of a total of 765. Then it lists my last viewed and most viewed pages.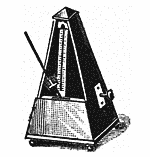 I admire the organisation, but I enjoy the content. Paul writes well. Words are the main content, but there are images too. Small wood engravings decorate the top of each page: a face, an animal, a skep, a metronome.