The wooden library
Monday 11 November 2002
The Swedish University of Agricultural Sciences maintains the Alnarp Library, which specialises in horticulture and landscape planning. Its collection includes a wooden library. I'll quote from the library's website: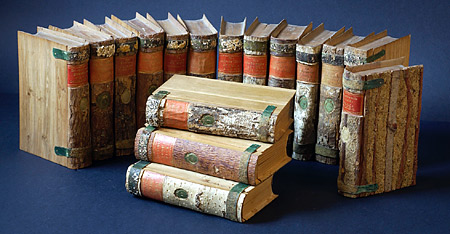 The wooden library, or xylothek (from the Greek words for tree, xylon, and storing place, theke) consists of 217 volumes describing 213 different species or varieties of trees and shrubs.

A xylothek is generally speaking a collection of simple pieces of wood specimens placed together in some kind of cupboard. In a refined form it is in the shape of "books" where you can find details from the tree inside, everything arranged as a "library". This latter form flourished in Germany around 1790-1810. Four different manufacturers existed and three of them offered their products for sale. The Alnarp collection is an example of that.

Each "book" describes a certain tree species and is made out of the actual wood (the "covers"). The spine is covered by the bark, where mosses and lichens from the same tree are arranged. "Books" of shrubs are covered with mosses with split branches on both covers and spines.

Inside there are dried leaves, flowers, fruits, seedlings, a piece of the root, cut branches, seeds - similarly organised in every "book". Inside the spine there is a very nicely written description of the biology of the tree species and also a description of how to use it practically.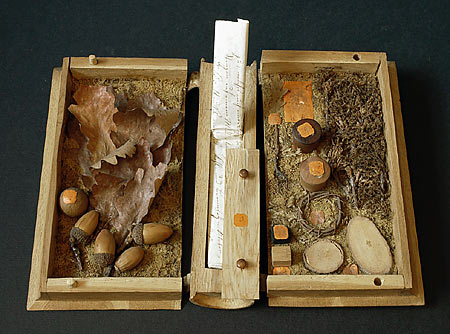 Credits: I am grateful to Craig in the USA for this link. He got it from Mark in Canada, who got it from Tinka in Denmark.