Harriett Brims, photographer
Wednesday 5 November 2003
My congratulations to the Picture Queensland crew at the State Library of Queensland for adding a collection of photographs by Harriett Brims to their digital collection.
The project news page has a short biography and introduction to the photographer's work, written by Dianne Byrne, with thumb­nail links to some of the photographs. If that page has gone by the time you read this, just search* Picture Queensland for "Harriett Brims".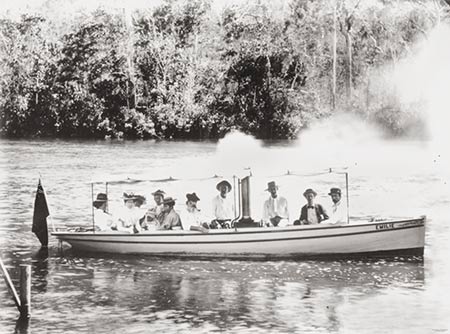 From Dianne Byrne's introduction:
Harriett Pettifore Brims (1864-1939), professional photographer, was born at Yandilla, Queensland, in 1864, daughter of William Elliott, a station owner, and Ann Jane, nee Faulks. In November 1881, at Blackall, she married Donald Gray Brims, an engineer from Caithness in Scotland; between 1882 and 1890 she gave birth to five children. In about 1894 the family moved to Ingham, where Donald Brims constructed a homestead with an adjoining sawmill and wharf near the mouth of the Seymour River. Within a few years Harriett Brims had established herself professionally as a photographer.
Harriett's photographs record the Brims family at work in sawmilling, joinery, boatbuilding, and even aeroplane construction.
Her photographs were taken with dry-plate cameras manufactured by her husband, himself an enthusiastic operator. They were made from the local maple-wood he harvested, and fashioned in his workshops. He also made her camera shutters​—​from sheet brass recovered from opium tins discarded by the district's Chinese workers​—​and cow-hide carrying cases which she used to transport her equipment. Her subjects ranged from the Melanesian labourers who were transported to live and work in the northern canefields to views of the Gairloch and Macknade sugar plantations, the copper smelters of Chillagoe, and landmarks such as Wallaman Falls, near Ingham.
I am delighted to discover this body of work of an unknown (to me) pioneer woman photographer, nicely connected with places and activities close to my heart.
*<irony> I think the Picture Queensland database server might have a flat battery, or perhaps its clockwork needs to be wound up.</irony> Be patient, the results are worth waiting for.