HUET
Wednesday 26 July 2006
Yesterday I did Helicopter Underwater Escape Training. I spent the morning watching video clips of helicopter crashes, and hearing the theory of surviving a crash into the sea. After lunch the 14 of us did practical training in the cool water of the Queensland Police Academy swimming pool.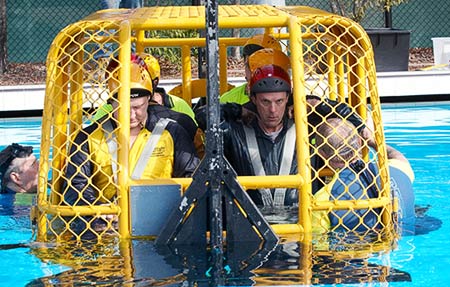 It went like this:
Wearing our ordinary clothes and shoes, plus a crash helmet, we swam out to the similator, which was hanging from a crane.
We each took our seat (a different one for each drill) and strapped ourself in.
The trainer signalled the crane driver's offsider, who signalled the crane driver, who hoisted the simulator and its cargo a few metres above the water.
The trainer yelled Ditching! Ditching! Ditching!
We each yelled Brace! Brace! Brace! and took up the brace position.
The crane driver let the brake go, and the similator splashed down.
We each took a deep breath before the cabin filled with water over our heads.
We each calmly held our breath while opening the nearest door (or waited while someone else did so), checked that the exit passage was clear, unfastened our seat belt, proceeded to the exit, and floated to the surface.
We each swam to the edge of the pool, and the trainer told us what we had done wrong and how we could do better.
The crane lifted the simulator to the starting position and we did it all again, with variations: escaping across the cabin through the opposite door, escaping with the cabin flipped upside-down, escaping upside-down while blindfolded.
After that, the rest of the drills were easy and, relatively, fun. We donned life jackets and tried body-heat-conserving attitudes (solo, and in huddles). We righted a capsized life raft and climbed aboard. We practised pulling injured people into the raft.