50 years of Strunk & White
Friday 17 April 2009
The elements of style (3rd edition, 1979) lurks on the shelf near my dictionaries and style guides. Some of its specific advice on grammar is weird, so it's not a useful reference book. But as an argument for clarity in writing it's wonderful.
White's reworking of William Strunk's original little book appeared in 1959, and was a publishing hit. Its anniversary has been marked by a new commemorative edition, and a flurry of comment.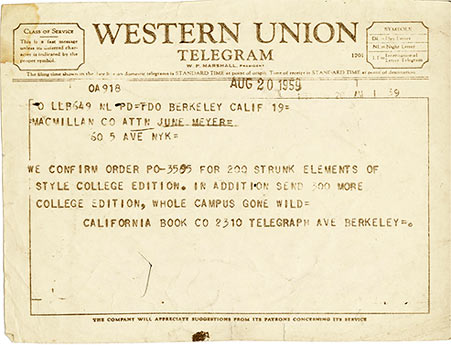 American National Public Radio broadcast a couple of pieces about the book​—​one laudatory, the other critical. The critical one is an interview with Geoffrey Pullum, whose writings on Lan­guage Log are always good. The elements of style is a regular subject for criticism on Language Log.
While I agree with the language loggers that Strunk and White's elements of style is flawed, I think that Robert Bringhurst's el­e­ments of typographic style is a wonderful piece of work and deserves its place beside my bed.