A visit to the Eddystone Lighthouse
Saturday 3 November 2012
I feel guilty, just a little, because I support the vandals who cut up old books and magazines. I am part of that awful trade. I search for bits of paper on eBay, and I pay money to dealers. Forgive me.
But I rationalise that it's a small transgression. If I don't buy those bits of paper, somebody else will; and if nobody wants them, they'll all go to landfill.
I paid a dealer to send me some pages pulled from a bound volume of the Strand Magazine (Volume IV, July-December 1892)​—​an article written and illustrated by F G Kitton, de­scribing a visit to the Eddystone lighthouse. It's a nicely written piece that gave me a peek into the offshore light keepers' life.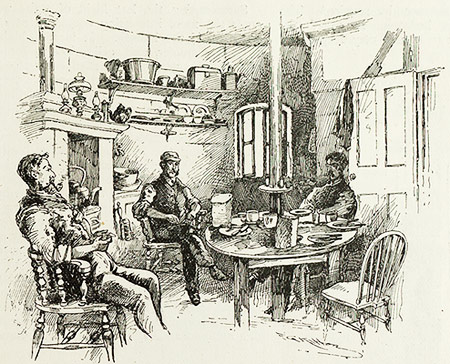 Frederick George Kitton (1856–1904) was apprenticed to the London paper The Graphic as a wood engraver, and went on to work as a writer and illustrator. His special subjects were the novelist Charles Dickens and the town of St Albans.
The technology of printing was changing in the 1890s and the article shows the transition happening. Some of the illustrations are printed in the old way​—​the artist's drawing painstakingly translated to the end grain of a boxwood block by a craftsman engraver. Other illustrations have been reproduced in the new way​—​the artist's pen and ink drawings photographically copied and etched into a metal line block. The wood and metal blocks have been locked into the press along with the metal type to print an integrated whole. I enjoy the art of the wood-engraver, and the science of the photo-engraver, and I like to see both together in this article.
As penance for my part in the destruction of the bound volume, I have digitised the article, transcribed the
text
, and made a
PDF

copy
of the pages (11,741 KB).