Piggyback princess
Friday 9 November 2012
In September 1868 Princess Alexandra was photographed with her baby daughter Louise riding piggyback. The picture makes the princesses look like ordinary people. Perhaps because of its charming informality this photograph, published as a carte-de-​visite, was a best seller. Loyal subjects, in their hundreds of thousands, bought copies to put in their albums. One of these has found its way into my collection.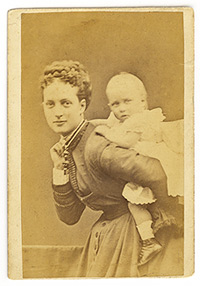 This photograph reminds me of carte-de-visite albums and the place of celebrity portraits in them. As well as portraits of family and friends, there were pictures of actors, opera singers, and circus freaks. And royalty.
Those albums are fast taking the place and doing the work of the long cherished card basket. That institution has had a long swing of it. It was a good thing to leave on the table that your morning caller, while waiting in the draw­ing- room till you were presentable, might see what distin­guish­ed company you kept, and what very unexcep­tionable people were in the habit of coming to call on you. But the card-basket was not comparable to the album as an ad­vert­ise­ment of your claims to gentility. The card of Mrs. Brown of Peckham would well to the surface at times from depths to which you had consigned it, and overlay that of your favourite countess or millionnaire. Besides, you could not in so many words call attention to your card-basket as you can to the album. You place it in your friend's hands, saying, "This only contains my special favourites, mind," and there is her ladyship staring them in the face the next moment. "Who is this sweet person?" says the visitor, "Oh, that is dear Lady Puddicombe," you reply carelessly. Delicious moment! ['The carte de visite', All the year round, 26 April 1862].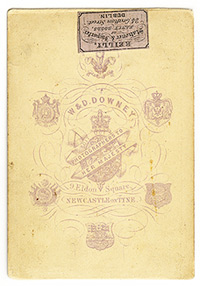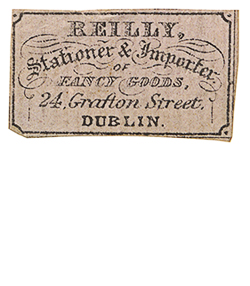 To go with the famous carte-de-visite of the princesses, I have another which might have been prompted by it. The photo was taken in the studio of J Weston & Son of Folkstone, but I do not know who the subjects were. I can imagine the mother asking the photographer to take a photo 'with my daughter on my back, just like Princess Alexandra'.
According to the Sussex PhotoHistory website Jasper Weston's son Frederick joined the studio about 1874. So this second photo was taken after the royal photograph had been in circulation for a few years.