Woodford demographics
Tuesday 31 December 2013
I have been at the Woodford Folk Festival for a couple of days, giving a little presentation about researching environmental issues.
Instead of the usual bring-your-own-tent arrange­ment, I stayed in Tent City. This is an area where somebody else has already put up the tents before you arrive, and has put comfortable beds in them. There is also a communal tent with a cold room, tables, chairs, and boiling water on tap​—​and a table with mains power where campers can charge their phones. When I looked, the table was covered with a mess of Apple iPhones, and very few other types.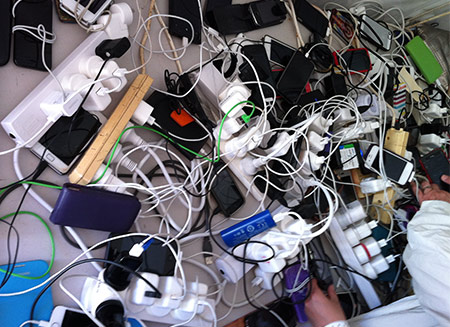 I counted 33 iPhone chargers (89%) and 4 other sorts (11%). The pre­pon­der­ance of iPhones surprised me, so I wondered why:
Is Tent City the habitat of a concentration of iPhone-using pseuds and trendies?
Do iPhones have weaker batteries and need more frequent charging than other phones?
I doubt the statistical significance of this single observation. A definite conclusion would require more observations. Am I going to do it? No​—​life's too short.
Something interesting might be revealed by a comparison with other charging locations at the festival. Am I going to investigate this? See above.