The reptile-skinned camera
Tuesday 26 February 2002
In 1929 the Ernst Leitz company of Wetzlar made a small batch of Leica Luxus cameras, gold plated and covered with lizard skin, just for the filthy-rich. The Luxus held its value​—​Christies in London sold one in 1994 for £39,600.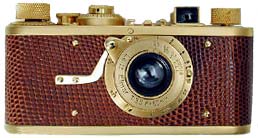 High prices have encouraged production of forgeries, made in Russia using parts from old Zorki cameras. You can also buy kosher replicas, with certificates of authenticity.

Meanwhile, the Leica company is still at it. Their website describes a one-off M6 camera covered with snakeskin of a protected Asian species for which a limited catch is authorised.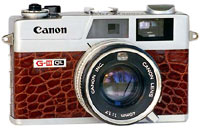 Thanks to the World Wide Web, low-budget camera obsessives can join in too. Cameraleather.com sells pre-cut reptile skin covers for ordinary old Konica, Minolta or Olympus cameras​—​in shades of lizard, alligator or snake skin to suit the camera's complexion. Prices start at US $28, plus postage.