Who owns this photograph?
Thursday 14 August 2003
The Columbia Journalism Review carried an exchange of letters between freelance photographer George Zimbel and the New York Times. The paper paid the photographer for a single use of a picture of John and Jacqueline Kennedy. Forty years later the paper offered the print for sale to collectors for US $4,000. Give it back, it's mine, said the photographer.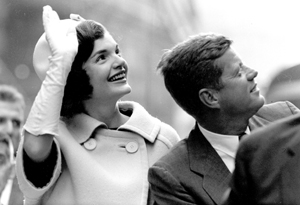 In a letter to the paper Zimbel points out the important dis­tinc­tion between freelance photographers (who sold one-use rights but retained their intellectual property) and staff photographers (paid a salary by the paper which owned the rights to their work).
It's clear from the correspondence that Zimbel was upset by this business — which is no surprise to me. He wrote to the news­pa­per's lawyer:
You get paid when you write letters and I don't, but some­times I have to come out of the darkroom and tend to busi­ness and ethical issues.
Did the story have a happy ending? Well, the Times did send the print back to Zimbel.