Reclaim the beach!
Monday 24 February 2003
See Peter Spearitt's piece on the Brisbane Institute website in which he reveals the liberties taken by beachside developers to lure potential customers, and why we don't have to keep off the beach, just because they say so. Yes, assert your right to walk on the beach!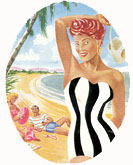 In the 20th century the beach became our prime holiday site, a place of fun and escape. Even in the midst of this drought the only sign of trouble - and only at some beaches - is that the outdoor showers have been turned off. But in the last forty years the beach has also become a place for real estate development and speculation. Many of us choose to retire at the coast and lavish apartment blocks, from Port Douglas to Perth, now cater for domestic and international holidaymakers.

Nowhere is Australia's preoccupation with the beach more pronounced than in Queensland. In the 1920s and 1930s Sydney was Australia's beach capital. It dominated the surf lifesaving movement and all the big carnivals were held there. But in the 1950s the mantle of beachside culture moved irrevocably to Queensland and the Gold Coast became the dominant image of beachside fun and fashion.