Ed Hamrick Fan Club
Wednesday 5 March 2003
Ed Hamrick is a one-man-band software developer and the author of vuescan. When I want to squeeze the last ounce from a negative, this is the tool I reach for. The program just gets better and better. I don't know any software vendor as helpful and responsive. Ed is a legend.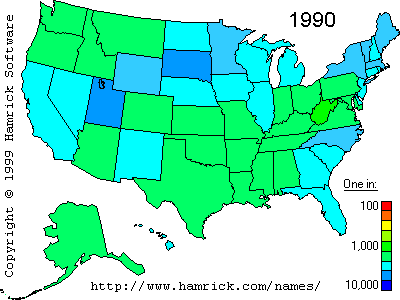 By chance, I found he has put a very nifty utility on his website — you can enter a surname and see a map of the distribution of people with that surname in the USA. You can choose from 1990, 1920, 1880 and 1850 data. The map above shows that in 1990 people called Kyle were much more common in Alaska than in South Dakota. Remarkable.
Bring in the time dimension and the picture is even more interesting. In 1850 Kyles were rare in most of the country, but one-in-a-thousand in California, Missouri, Ohio, Pennsylvania, Virginia and Maine. By 1880 many Kyles had rushed to Montana, but they did not hang around.
Thanks again, Ed.