Paris photographed and rephotographed
Friday 10 October 2003
As an aside to my special place for this month, here is a link to images of 494 photographs of Paris by Eugène Atget in the George Eastman House collection.
Eugène Atget was born in 1857 near Bordeaux. After working as an actor in regional theaters, he settled in Paris in 1890, taking up photography in 1898. He photographed Paris, working on commissions from various city de­part­ments as well as the Carnavalet Museum. The Surrealists appreciated his work, most notably Man Ray, who ar­ranged for Atget's work to be published in La Revolutions Surrealiste in 1926. The photographer Berenice Abbott purchased Atget's collection after his death in 1927.

Atget's photographs, all contact prints, were made as documents of Paris and its environs for artists, architects, and publishers. He organized his work into various series, most of which are represented in the Museum's holdings. The collection spans Atget's career, from 1898 to 1927, though its strength is pre World War I. The years 1901, 1907, and 1908 are especially well represented. Few of Atget's photographs of tradesmen, prostitutes, and rag pickers exist in this collection.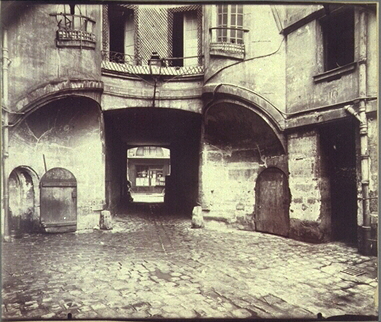 Also of interest is a program run in Paris by the University of South Florida School of Art and Art History​—​the Atget re­pho­to­graph­ic project, in which students attempted to locate [Atget's] 'tripod holes' and to replicate the exact view and framing of his original scene. The result is a comparison which affords us an experience not unlike that of the time traveler in H G Wells' "The Time Machine" for whom a fixed point in space becomes the focus of one's historical imagination.