Hundertwasser: the musical
Saturday 20 August 2005
Artist and architect Friedensreich Hundertwasser (1928-2000) has inspired Hundertwasser: das Musical, staged in the German city of Uelzen.
How many architects have been cast as theatrical heroes? Could this be the start of a new genre? Perhaps Marquis-Kyle: the restoration comedy.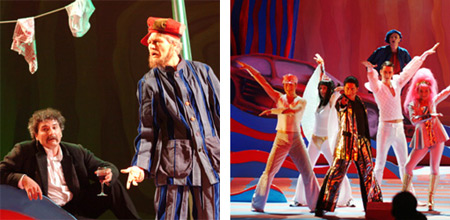 The Hundertwasser-Musical was thought up by librettist Rolf Rettberg and is staged as a drama in several stations drawing parallels to the artist's life story. The "Regentag" (Rainy Day), Hundertwasser's sailing ship, is the plot's centre of action. A sea voyage across the oceans from Venice to New Zealand passing the continents serves as the metaphor of the cosmopolitain artist's path of life. The respective stations of the plot are shown in rapid succession without marked transitions, finding their climaces in emotional dream sequences.

Dazzling drama in stations; sensuous and poetic

The plot alternates between different levels of action. It commences in Vienna, Hundertwasser's place of birth, and corresponds to scenes that take place on his sailing ship "Regentag". Venice as the journey's starting point with all its colours and vivacity is set in contrast to the more "sophisticated" Vienna. In the course of the action, real motifs drawn from the artist's biography meet fictitious moments. Thus, for example, the "Chior of museum directors", who call Hundertwasser into question, is confronted with his cosmos in a pleasurable way.[from the English flyer [no longer] available as a pdf on the website]
See also: My piece about the Hundertwasser weblog, with links to other websites.