Marking time in November 2004
Tuesday 9 November 2004
The real toy story
75% of the world's toys are made in China. See the website of an art gallery installation by Michael Wolf. [via Coudal Partners]
The project was conceived in the spring of 2003 during a visit to the United States. As a surprise for my son Jasper, I bought a sack (app. 600) of second hand toys at the local goodwill store and distributed them on every available sur­face in his room — surprise! The effect was stunning. As we examined the toys closer we made a discovery — every sin­gle one was made in China. Jasper observed: "I thought Santa and his helpers made toys!" It was then the idea came to me: what if I was to make an installation and cover an entire wall with toys "made in China" and juxtapose them with portraits of Chinese toy-factory workers?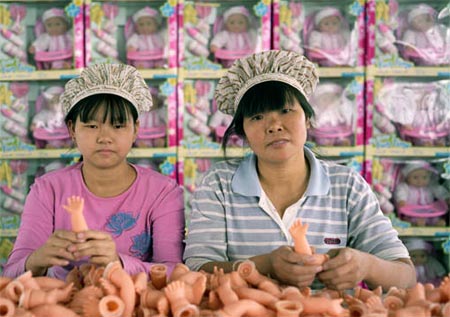 Wednesday 3 November 2004
Farewell Theo Van Gogh
From Yahoo! News: Dutch filmmaker Theo Van Gogh slain.