Conserving photographs
Saturday 2 November 2002
I spent today at a photographic preservation workshop, looking closely at daguerreotypes, tintypes, ambrotypes and other early photographs, and learning how to care for them. Thanks to Lydia Egunnike, conservator at the State Library of Queensland, for an excellent session. My little collection is in for some tender loving care.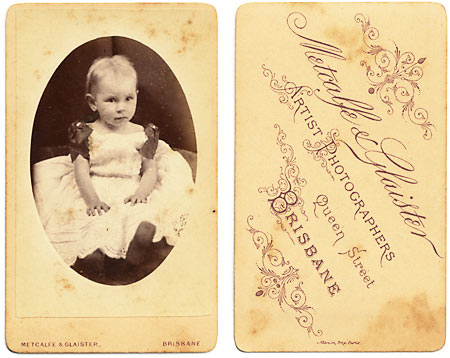 A few months ago the photographic historian Marcel Safier pointed out to me that my ancestor Daniel Marquis operated a photographic studio in Brisbane from 1866. I regret that I don't have any examples of Daniel's work.

When Daniel died in 1879 his business was taken over by D F Metcalfe and renamed the Imperial Photo Company (late D Marquis). The picture above comes from a studio that Metcalfe operated before then. It is a carte-de-visite — a nicely lithographed card, 63mm x 105mm, with an albumen print pasted on. Such visiting card photos were immensely popular in the late nineteenth century.

Mass-market photography started with the carte-de-visite craze. I have been quietly collecting these little reminders of ordinary life, and enjoying their subjects, their design, and their connection with the photographers who made them.